Welcome back to a Monday night in America!
Tonight was all about chasing after balls! And whether you watched the National Championship game or The Bachelor, we know someone went home a total loser on both stations.
Like Ben choosing to keep both twins, I chose to watch The Bachelor AND the game. After all, I owe it to my readers to multi-task and weave in a recap.
GROUP DATE #1:
They don't waste a lot of time getting right to the first group date, so neither will I. Ten girls are chosen to go back to high school (Barf!) where "Principal Harrison" awaits.
In teams of two, they attend four classes — at the end of which, one will be crowned Ben's Homecoming Queen.
First, the ladies attend science class, where they try to find the four necessary ingredients to make Ben's volcano explode.
Seriously, ABC? The jokes write themselves now.
Lace and Jubilee are teammates so clearly at a disadvantage. While Jubilee is ex-military and physically capable, Lace is the brains of their operation. I repeat: Lace is the brains of their operation. And since she's actually a fabric, not a person (Ha!), it's no surprise when their team is eliminated first.
Next, the ladies have to bob for apples. As Ben puts it, "One of the most attractive things about this date today is I'm seeing these women really put themselves out there." And by "put themselves out there" we know he really means "demonstrate what they can do with their mouths."
Based on Becca's comment, "I'm thinking Jackie's wishing she had a bigger mouth," we gather that Jackie is small-mouth challenged. Take note, Ben. Wink wink.
Geography is the third topic they review. The idiots ladies are tasked with placing Indiana correctly on a map of the U.S.
This is how the scene unfolded for me:
Find BENdiana on the map. Can't find it?
What about BENdia? Still no?
Okay, how about BENdonesia?
C'mon, ladies… Bennsylvania? These girls completely failed the geography class. Wow, they're BENgnorant.
Write this down girls: There's a fine line between being notable at something and not able.
In gym class (seriously, this is the LAMEST episode on record!), Mandi and Amber have to go head-to-head (Yeah, I bet they do!!! Ha!) for the Homecoming Queen crown.
Really the only thing worse than being a homecoming queen when you were actually IN high school, is being crowned one on a Reality Show — for fake-sies.
But it is Jennifer who gets not the crown, but the first kiss of the season. A move that has Lace responding with, "Is she going to mount him?"
Meanwhile, Lace is on a mission to tell Ben that he met a different Lace on night one. That's right. You met Doily on night one, Ben. And she didn't mean to come off as such a nut bag.
That's the second time Lace has claimed she's "not crazy." The third time she'll turn into Beetlejuice!
Seriously, hell is probably an endless loop of cold, gray mornings with Lace talking on the radio piped in.
This really is much like high school. All that's missing is the Boone's Farm Strawberry Hill. Or California Coolers, in my case.
Next, JoJo gets higher than she's ever been (atop a roof) and also gets a rose. And Lace immediately acts super Ben-jured!
ONE-ON-ONE DATE:
Calia wins the first date card and says, "Well, I don't even know what to say!" Here's a hint, Calia: It starts with "Thanks" and ends with "You???" Sheesh. It's like 'Dating 101' around here!
In a forced promo for the new movie Ride Along 2, Ice Cube and Kevin Hart show up to plan the date.
What stage of grief is it when you lie naked in the forest and wait for rabid badgers to eat your liver? Acceptance? Yeah, it feels like acceptance. Because it feels like that's what I'm doing as I accept the fact that The Bachelor's creativity department is lacking while my liver is shriveling up on my couch.
Okay, it could be the whiskey in my hand, but still!
Nevertheless, Hart and Ice head out on the date with Ben and Calia. They hit up a liquor store where Ice Cube buys some Hennessy and condoms. Hennessy in the morning? Dude, this is my kind of date!
"What kinda alcohol you think she want?" – Ice Cube . (I can't stop laughing). The grammatically correct English kind. Probably.
Yo, Ice Cube, "Check Yo Self Before You Wreck Yo Self!"
Next, we find all four of them in a hot tub in a pool store. Worst. Date. Ever. And now they for sure have a staph infection! Gnarly.
Finally, Calia and Ben get some time alone so they head to a pizza parlor. Fine dining at its best, y'all!
But something went right, because Caila gets a rose.
As they leave, they miraculously walk up to a private concert.
Me, talking to my Television:
"PLEASE DON'T HAVE A SOLO CONCERT for The Bachelor.
PLEASE DON'T HAVE A SOLO CONCERT FOR The Bachelor.
Please don't…."
Ugh…why did you do this to yourself, Mr. Lee?
And then Amos Lee, THEE famous Amos in my opinion, begins to play a private concert and I find myself wanting to be a contestant on The Bachelor for the very first time in its twenty seasons. I love me some Amos Lee.
GROUP DATE #2:
Back at the chateau, a date card arrives for Emily, Shushanna, Sam, Olivia, Haley, and Amanda. Together, the ladies head to the Love Lab.
Weird, that's what I call my bedroom. HA!
Actually, the Love Lab is a place where "scientists" are going to determine just how compatible all these women are with Ben.
Through a series of super awkward tests, they measure compatibility through the senses.
When they start smelling each other while blindfolded, I started to think that maybe the date at the high school wasn't so bad after all!
But when Ben smells Sam, he says, "She smells sour." Yikes. That's not good!
Poor thing smells like Kung Pao chicken. Not sure how she'll recover from this one! (Bless her heart).
This whole date makes me feel like Ben is choosing the best breeding stock right now. Terrifying.
Meanwhile, with the identical twins on this date together all I'm thinking is, "My worst nightmare would be going on a date with my identical twin sister (no offense DeeDee). So glad we have different taste and don't share a brain, like these dimwits.
The results are tallied and Sam is NOT a match for Ben.
Apparently Sam smells like ass because she scored 2.42 out of 10! (Poor, little wonton egg roll).
Once back at the Four Seasons, Ben steals some time with Olivia where he tells her he isn't surprised they are match. And kisses her.
Next, my favorite line of the night is delivered by my new best friend Shushanna, when she says, "I came to the US with $400 in my pocket, 2 pairs of jeans and 2 bottles of vodka."
Weird, sounds like when I moved to Austin. But I also had a case of wine and a harmonica.
We also learn on this date that Olivia has a GIGANTIC mouth. So big that her mouth should have been the goal posts for the National Championship game!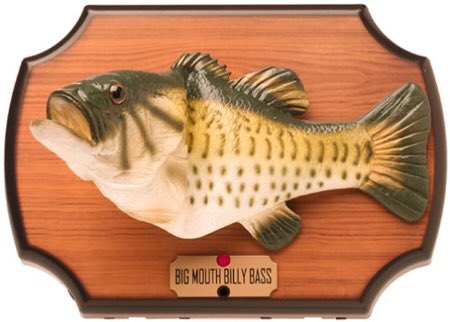 I'm pretty sure her spirit animal is the big mouth Billy bass. In fact, we can call her Hole-livia because you can get a hole-in-one.
Ben must approve of that idea because he gives Olivia a rose. Bow-Chicka-Wide-Wide!
COCKTAIL PARTY:
Oliva and Lace have a little confrontation because Lace is not pleased with the fact that Olivia has received more attention than she has.
Hey, look on the bright side, Lace, you've no doubt received a LOT more attention from your psychiatric evaluations than all of these girls combined. Celebrate that, sister!
In fact, I'm pretty confident you got the name 'Lace' from the fabric they used to tie your straight jacket. Am I right?
ROSE CEREMONY:
Ben hands out roses to: Amanda, Jubilee, Lauren B., Leah, Becca, Rachel, Lace, and LB, who pulls Ben aside.
Apparently, LB isn't feeling it, so she leaves on her own leaving me to deduce that her initials stand for "Later Benjamin!"
So, leaving us tonight are Sam, Mandi, and Jackie…and her itsy-bitsy, tiny mouth.
Ah, that "stinks" Sam, but try not to be sour.
Well, that's a lesson for us all: if you smell like Chinese food, you won't find true love. But you may find some sweet and sour "pork."
That's all rose lovers, see you again next week! After all, it's either this or solitaire. And you know how addictive solitaire can be! Hahahaha!
Disclaimer: This is written for comedic purposes only. Under no circumstances is the content herein designed to hurt or harm the feelings of any of the contestants of The Bachelor. If said feeling (singular) is in fact wounded, then that contestant should not have signed up for this show in the first place.