This week's recap is brought to you by my great friend, Natalie Morris, who hails from Northern California by way of Arizona. Her husband Matt provides background commentary as well — which means there is no shortage of Morris family fodder. Thanks for filling in while I was out of town, guys!  I love you from the top of my hot pants to the bottom of my cankles (if I had them):
Thanks for having me back, Debbie. Quick shout out to my friend Marty who texted me from Colorado this week just to say that Lace was clearly the producers' "plant" this year and that she has zero chemistry with Ben. I love that this silly show gets intelligent, strong, and functional women into such a tizzy about fake relationships. It's fun!
Let's just see how things turn out for the "plant" and her own personal Peter Brady this week!
Tonight's story opens with the girls gossiping about other girls because they have nothing else to do. Olivia (who truly scares me) thinks she's "in a relationship with Ben" although she hasn't held his hand or kissed him. Uh huh.
ONE ON ONE
First 1:1 date goes to Lauren B who is so excited to "focus on her relationship with Ben." Join the club, lady. All of the girls stand in the front courtyard to wave goodbye as Lauren and Ben drive away. Not awkward at all.
Lauren The Flight Attendant is "attended" by Ben during her flight (seriously channeling our friend Debbie with that one), including lots of cuddles and adorable little smooches. Cruelly, they taunt the other ladies by doing a fly over of the mansion. Low blow, Bachelor producers. Low blow. I suppose they're just doing their jobs and feeding the beast of drama. And feed it, they do.
Lauren and Ben both acknowledge the goofiness of a hot tub appearing in the middle of nowhere (which I actually appreciate) before making out to some romantic Spanish guitar music. As you do.
My husband Matt from behind his laptop: "Let the man-whoring begin!"
Back at the house, the girls JUST realize that other girls are "spending time with Ben" and that it will be hard. There are tears. This point in the season always confuses me – have these girls never SEEN the show??!!! Sigh.
Ben and Lauren have a conversation about the simple, normal things of life. They seem to have a sweet connection and truly enjoy each other's company and I feel myself getting sucked in to believing this. How do I still get sucked in – have I never SEEN the show??!!! Sigh.
Lauren gets a rose – obviously. They're kind of adorable! [self-directed face palm]
This is the never-ending date – they go around the corner and some country band (Something Angel?) just happens to be playing a concert in the barn. Where'd the barn come from? No one mentions that this is goofy. Because it's really goofy.
Back at the house, no one's crying but the group date goes to Amanda, Haley, Jennifer, Shushana, Leah, Amber, Lauren H, Scary Olivia, Jamie, Rachel, Lace, and Emily. That's a lot of girls.
Matt: "Yay, I get a date today with 10 other women!!"
GROUP DATE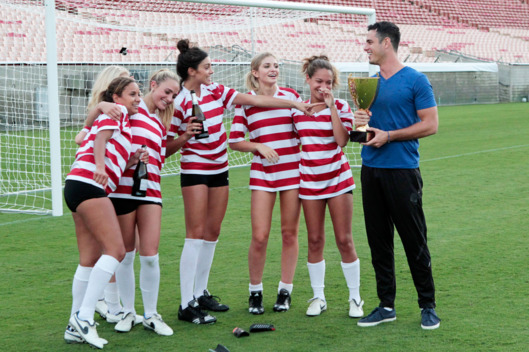 The group date is at the LA Coliseum and the girls are joined by two players from the US National women's soccer team. We learn from this date that all of these girls reeeeeeeeeally suck at soccer. (Of course so do I, but I didn't put myself on national TV).
Back at the house, the crying is back. Some of the girls talk about how they'd like to have a "real conversation" with Ben. Jubilee is really "falling for" Ben, but she's in tears because Ben has a type and it's not complicated like her.  How would he know how complicated she is if they've never really talked? Sigh.
On the field, the girls are split into Team Stars and Team Stripes and we all find the injection of patriotism a little odd. The winning team will get an after party with the Bachelor and Scary Olivia in particular is willing to kill for the extra time with Ben. This should not surprise any of us.
Matt: "I'd better dig in and pay attention to this." Ben also seems very interested in the activity on the field. I suppose their interest also should not surprise any of us since there are a dozen girls with short-shorts running around playing sports.  [Matt: "Clearly the winner of that match was 'Murica." Again with the weird patriotism?]
After getting to sudden death (of course), Team Stripes pulls out the victory and Scary Olivia crows about how "hard work pays off." Uh huh.
Back at the house, more girls are in tears because they're not "spending time with Ben." Surprise!
The after party gets going with Team Stripes and very quickly Scary Olivia pulls Ben away, tells him the other girls find her intimidating, and jumps him. It's hard to tell how Ben feels about this.
Down in Ben's waiting room, some of the Stripes impersonate a particularly nasty group of 7th graders, making a list of Scary Olivia's least attractive characteristics, including:
Fake boobs
Bad breath
Fat toes
Fat toes? Who notices toes? Well, apparently Scary Olivia, because when told about the sniping, she acknowledges that she knows about this imperfection. Too bad there's no such thing as a plastic surgery to slim your toes. Please tell me there's not.
Really, Scary Olivia handles this much better than I would have, my likely reaction being "No! That's the thing I'm SENSITIVE about!" [Totally obscure reference that made Matt and me laugh – click on the picture below to check out John Mulaney discussing the brilliant cruelty of middle schoolers for a little mid-recap palate cleanser. You'll be glad you did.]
Anyway … Ben goes through the rest of the girls one by one, but I'm not feeling the connection with anyone else. Dump them all, Ben! Actually, I'm ready to call it for Lauren B at this point, but still we must play the game and the date rose goes to Amber.
SECOND ONE ON ONE
The next 1:1 date goes to Jubilee, who has spent the episode so far in tears. I can't wait for Ben to find out how complicated she is! To kick off the date, Jubilee shares that "when I care about somebody, I get awkward."
And awkward it gets. A few examples:
She's deathly afraid of heights and the date's in a helicopter
She makes numerous penis references throughout the date
She nearly gags on caviar and is not delicate about it in any way
She communicates her obsession with hot dogs very clearly (get it?)
She calls Ben "white boy" and then seems surprised that he doesn't get mad
To her credit, Jubilee gets past the initial, overwhelming (highly produced) awkwardness and really opens up about how she was adopted from Haiti, and how she has guilt about being the only remaining person from her family who didn't die. It's pretty intense. Jubilee gets a rose.  Ben says that he likes "that Jubilee has lots of layers." Hey, Ben gets how complicated she is!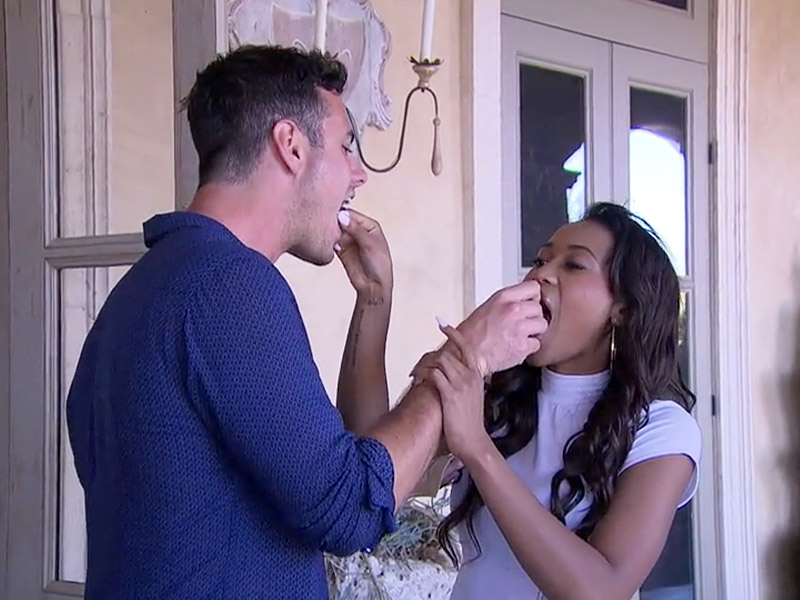 ROSE CEREMONY
Fast-forward to the Rose Ceremony and "there's a weird tension in the house." Isn't this automatic when there's a Rose Ceremony? And pretty much always, if we're honest?
Adding to the weird mood, Ben shares that he got a call that day about the sudden death of two family friends in a plane crash. He adds that he's a little down and the tone is definitely somber.
So, Scary Olivia pulls him away and begins a monologue about … how she hates her legs and cankles. Wait, what? [Matt: "Wow. Just wow."]  Ben agrees with Matt and seems annoyed, as he should.
For a second, Ben's emotion seems to bring the girls back to a bit of reality and they express some shame about their pettiness. It doesn't last long. Everybody's weird with Jubilee, although Ben is definitely happy to see her. And he should be, because she gives him a massage. The other girls FREAK OUT!! Because … middle school, remember?
After the massage, Jubilee hides under a blanket, but Amber and the gang try to ambush her to "get some things out in the open." Jubilee runs away in tears. Ben comforts her. Amber tries to confront Jubilee again but Ben defends Jubilee against the drama. I'm starting to think I've given these girls too much credit with my 7th grader comparison earlier. Sigh.
Lace "reaches the end of her dynamite stick" (love that) and pulls Ben outside. In tears, she tells him she feels like the connection isn't there and she's going to leave. And thus ends the tale of Lace … until she inevitably returns for Bachelor in Paradise. [I'm calling that one, too.]
Matt: "He's not exactly fighting for her to stay." No, he wasn't.
Roses go to:
Lauren H
Amanda
Becca
Haley
Emily
Rachel
Kayla
JoJo
Jennifer
Leah
Scary Olivia (damn!)
Date roses:
Jubilee
Amber (she's lucky)
Lauren B (aka, the future Mrs. Brady)
No rose for you!
Shushana
Jamie
On the way out of the house, there are tears. Because, off course there are.
Matt: "I'm not exactly sure this experience is the litmus test for understanding how to be with a guy."
Touché, Matt. Touché.