Tonight on The Bachelor, the twins have a two-on-one date. And let me start by saying that the only thing twins should ever share is a womb!!!
Speaking of sharing, and two-on-one's, why don't I put down my Jack and Coke and get this Bachelor party started and share what transpired on tonight's episode of The Bachelor:
Like the buffets they're known for, Ben heads to Las Vegas to sample the 14 women he has left on his love platter.
The girls' pack their bags and meet Ben in Twin, Err, I mean Sin City. They check into their suite at Aria where they receive the first date card.
FIREWORKS IN MORE WAYS THAN ONE
JoJo receives the first date card which reads, "You Set My Heart on Fire." Naturally, she is giddy with excitement.
All the while, Olivia is saying to the camera that she's "Zen with Ben" and I'm like, "Oh yeah? Well, you're also Cray All Day!!!"
A helicopter swoops in to retrieve Ben and JoJo for their one-on-one date. They talk about what they're feeling towards one another. JoJo admits she's cautious because of things in her past and she's fearful to give herself completely to someone after getting hurt five months ago in a relationship. "I gave my heart to my ex but he had others in his life," she says. If you ask me, which it feels like you are, I'd say JoJo got involved with a married man.
She demonstrates she's ready to move forward with some tender kisses for Ben, for which she earns herself a rose. To celebrate, they step out onto the veranda and watch fireworks together and make out some more.
OLIVIA TAKES THE CAKE
It's now time for the group date. The date card reads, "Show Me What You Got," and naturally I wish Whoretney was on this episode because she certainly would show us what she's got! HA!
Amanda, Lauren B., Amber, Hailey, Emily, Leah, Lauren H. Jennifer, Rachel, Olivia and one other girl whom I can't recall are invited on a date.
The gaggle of girls arrive at the Terry Fator show where they are required to participate in a Talent Show. Eeks.
In any other walk of life, taking a bunch of girls you're trying to date to a puppet show would be an epic disaster. And in this walk of life it is as well.
Lauren dresses in a chicken suit, Jubilee plays the cello and the twins? Well they "twin" of course. Even saying, "We're in it to twin it!" (And now I'm bummed my twin and I never thought of that one!)
Olivia says she has a hidden talent. Really? I'm SO curious! Let me guess: Swallowing a basketball whole, but not your pride? No. Hmmm. Oh, I bet you can queef the alphabet backwards? Nope? Sheesh, well what is it? Don't keep us waiting.
And just then, Olivia jumps out of a cake in a borrowed thong and frazzled headdress.
Oh girl, this is all sorts of YIKERS!
Instead of jumping out of a cake you should have jumped IN a cave!
Run and hide, sister sledge. This ain't pretty! Apparently the standard for what you classify as "talent" has drastically lowered.
That being said, if I were in this talent show, I'd demonstrate my ability to eat a Del Taco bean and cheese burrito in point 2 seconds while doing the splits on the wall. HA.
Knowing she looked like a bladder bag on national TV, Olivia has a major frosted cake meltdown. MAJOR!
Calia takes the opportunity at this point to grab Ben for some alone time and she attacks him like a "sex panther!" His words. Not mine.
After Sunday's HORRID game between my Arizona Cardinals and the Carolina Panthers, the LAST thing I want to talk about is a panther of any kind. #KeepPounding
Sex Panther. Because 60% of the time it works every time!

During the evening portion of this group date, Ben makes out with a puppeteer. Which, truth be told, makes me feel better about going out on a date recently with a guy who smelled like Funions.
But something tells me this is not the first time Lauren H. has had to talk to a man with a doll.
Olivia once again steals Ben away from a girl who is trying to get to know him better to let him know that, "I feel like I screwed up today…and I wasn't trying to at all."
Excellent point Olivia. Most people intentionally try to screw up. We get it.
Olivia has more issues than National Geographic.
In the middle of the madness, it's Lauren B. who gets the rose.
GOING TO THE CHAPEL
It's time for the next one-on-one date card — which goes to Becca. As an ordained minister, Ben has invited Becca to participate as he marries couples in a Vegas chapel for their date. And Becca, "feels like a blushing bride."
Becca, the virgin, quickly transitions from a wedding dress to a maternity dress, something Ben should be freaked out to see.
Becca stands by as Ben officiates a couple of weddings in a janky Vegas chapel.
Seriously? Am I the only one who thinks that getting married by The Bachelor is like having a shop teacher with only 4 fingers? Not the best role model.
Ben redeems the date a tad by taking Becca to the neon museum. Yep, that's how bad this date really is that a neon sign museum is a step up.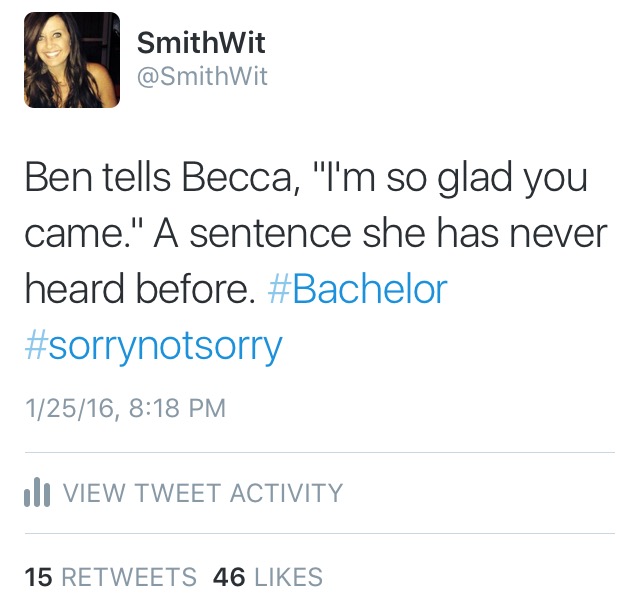 They are adorable together. Seriously, I rarely, if ever, say that about a "couple" on this show. Nonetheless, I'm glad Ben gave Becca a rose.
By the way, I would send EVERY girl home who wore Kendra Scott earrings because they lack originality.
TWO FOR THE PRICE OF ONE
Ben is not feeling comfortable having sisters in the mix so intentionally takes Haley and Emily, "The Twins," on a date in their hometown.
Remember, these are girls that think fireworks are "extravagant" so Ben will be a hero if even he takes them to Taco Bell.
Here's a twin joke for you:
What did one twin say to the other?
There's not enough womb here for both of us.
Thanks for the laughs. I'll be here for a few more paragraphs. HA.
Emily gets rejected. Or maybe it was Haley? Yes, it was Haley. Well good news, Haley. Now you can go home and focus on redecorating your room. It looks like you're in third grade!!!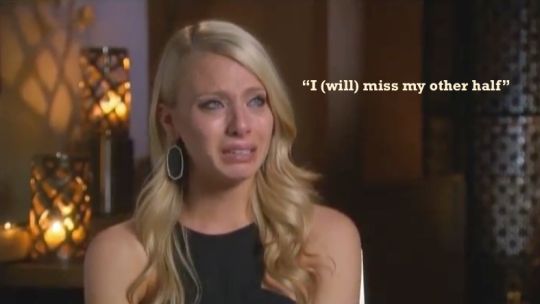 Wait, now that one twin is gone, what is the other twin's occupation? This is horrible. She lost her sister AND her job!
Talk about "awko-taco!"
COCKTAIL PARTY
Jen steals some alone time with Ben. Finally.
She hasn't had much time with him. And just like that, she gets interrupted by WHOLE-livia. She's a whole lot of crazy. Olivia speaks third person about what she believes Ben is saying to her loud and clear.
But the only thing she should be hearing loud and clear are all those voices in her head!
ROSE CEREMONY
"As fun as it's Ben, it's time for me to say goodbye to some of you…"
Staying:
Amanda
Lauren H.
Jubilee
Emily
Caila
Jennifer
Leah
Olivia — "This is gonna work for me. I read a lot of romance novels." Oh, Olivia.
Leaving in tears…
Rachel
Amber
That's all for now, rose lovers. Meet me back here at the same time, same channel next week. And until then, have a fantastic drama-free week!