Oh, Holy Moses, We made it!!! (Stands back away from her dog lying on the floor to perform a cartwheel of stellar proportions!)
FINALLY, after Lord knows how many excruciating weeks of marinating in this reality TV filth known as "Trashelor," Err, I mean the Bachelor, finally arrived victoriously at the Final Rose Ceremony.  Hallelujah!
Okay, let me catch my breath. Not sure if it was the cartwheel, the wine, or all the drama of this three-hour sesh, but this girl is tired.
Okay, I'm ready. Let's unravel this mess…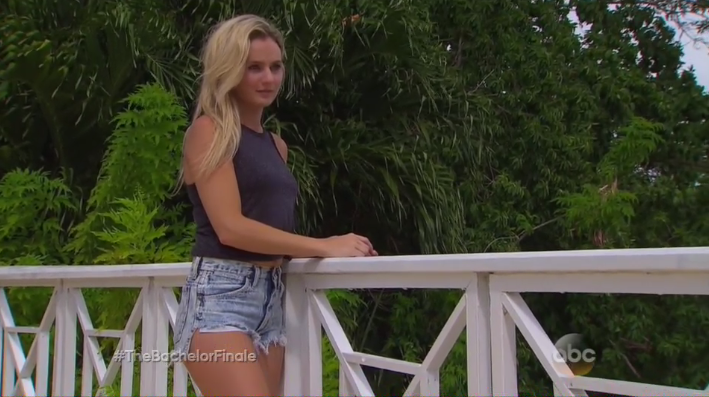 The evening's episode opens in Jamaica, where we find Lauren daydreaming out on the veranda in denim crotch covers that are neither attractive nor to be considered clothing.
JoJo and Lauren have both professed their love for Ben and Ben has reciprocated the "I Love You's" back to both girls as well. (See, I told you, it's a mess!)
"Right now it's impossible for me to imagine saying goodbye to either of these women," he moans. "I'm scared I'm going to make a mistake." – Ben tells the camera.
Oh, don't worry about that, Ben — you've already made SO many mistakes, what's one, or two, more sweet-cheeks?
Ben's parents, Amy and David, are in Jamaica as well to give their son sound counsel. Although, you can already tell that momma Amy is not pleased with her son when he tells them "I'm in love with two women." Amy's head almost spun off her neck.
"Wow," she says, "To know that Ben could possibly be in love with two women… is REALLY disturbing to me." Yeah, us too lady. Us too!
Nonetheless, Momma H., Lauren just arrived with a huge bouquet of flowers so you best adjust your mindset because this may be your future daughter-in-law.
MAKING INTRODUCTIONS
"I am very much in love with Ben," Lauren tells dad David, adding that she's "ready" to get married. Things get a little more real with mom Amy, as she and Lauren discuss Ben's persistent feelings of unworthiness. "We haven't had to face anything really, really difficult and then get through that together,"
Lauren admits, and she asks Mom's advice for making Ben feel better when he's marinating in self-pity. Amy says Ben's wife will need to be "patient" and be able to "talk him off the ledge" when he needs it. So… is Lauren that person? "She's a sweet gal," hedges Mom. "I don't know." Nor does she seem to have a lot of faith in her son's ability to get himself out of this romantic pickle.
Yep, Ben is certainly in a quandary because just a few hours after introducing ma and pa to Lauren, he will be introducing them to JoJo:
JoJo arrives with a conch shell floral arrangement of some kind that coordinates well with her floral shorts romper. Apparently JoJo decided a bra was optional so will undoubtedly be introducing Ben's parents to her "ladies" as well.  Classy.
JoJo quickly sits down and tells Ben's parents that she's happy to meet the "two people who have made such an incredible guy, one I've fallen completely in love with." Furthermore, JoJo is the first to bring up the fact that Ben is "hard on himself," speaking straight to Amy's heart.
Talking to Ben's dad, JoJo explains that Ben is her best friend. Tearing up, she tells Ben's father that not only does she love his son, but she promises that there will "never be a day that he won't know that." A sentiment dad seems to appreciate.
Talking to mom, JoJo once again tears up, explaining that Ben makes her feel safe. Mom, proving she has a favorite, finds it funny that "safe" is a word that Ben also used to describe JoJo. As mom put it, JoJo just "felt different." Yep, let's go ahead and label mom #TeamJoJo.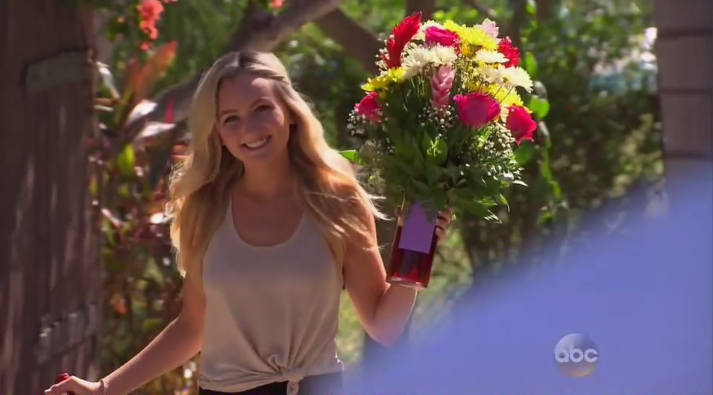 LAST-CHANCE DATE FOR LAUREN
Lauren's has her last chance for romance with a final date with Ben before the final rose ceremony. Ben arrives having just spent hours conflicted with his decision and smack-dab in the middle of worry over the quandary he finds himself in.
Lauren has zero clue how conflicted he's feeling. "I can't believe that he loves me," she gushes. "The fact that he has told me that gives me a certain amount of confidence." But once she and Ben are at sea on a catamaran, Lauren can totally tell that Ben is a wreck. "I feel like he's thinking about something and I don't really know what," she admits. "It's making me nervous."
…Oh duh, let me see. Might it have something to do with the fact that he told TWO women he loves them and has to send one home tomorrow, heart in hand and hopes stuck like gum to the bottom of their shoe?
As it turns out, what Ben's thinking about is nothing new: He can't get over how "perfect" his relationship with Lauren has been from the very beginning, and that's giving him the jitters. "I knew I loved you… right away and it freaks me out," he laments. "What in the hell is happening? That's where my mind's at."
His real concern, he continues, is that he has no idea what it's like to go through a stressful time with Lauren, since every moment of their eight days together (or four months or whatever) he's been so happy. "We haven't been tested," he says, adding that he and JoJo have been through "rough things" and "overcame."
First, you mean overcome. Not overcame. Second of all, what rough things? The fact that her navel is always showing and her boobs were wobbling around in her romper in front of mom and dad? Sure, that's akin to the loss of a job, or the death of loved one, or fertility issues — or any number of actual problems that real couples go through.
LATER THAT NIGHT…
That night, Ben admits to Lauren that he came away from their date "confused," but when she asks him if he has more questions for her, he gives her a look that is, for lack of a better term, creepy.
"Lauren, no matter what happens, you've made me a better person."
Her eyes fill with tears, and rightfully so. Nobody wants to hear those words.
"I'm scared that Ben is in love with JoJo too," she admits.
Of course, only Ben knows for sure.  And truth be told, I'm not sure Ben knows that either. YIKERS!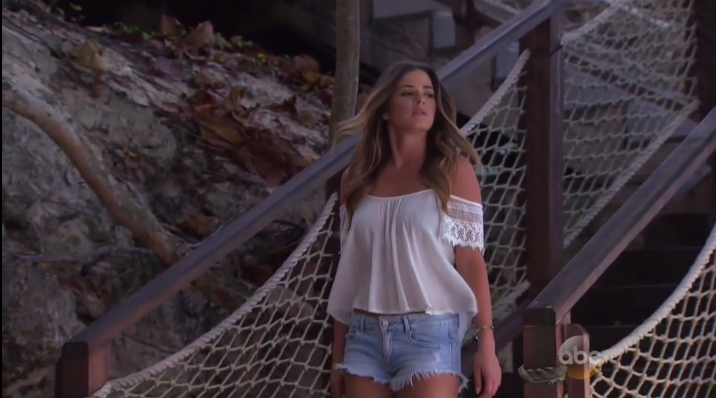 LAST-CHANCE DATE FOR JOJO
Still, JoJo knows that this is her last opportunity to get answers from Ben before the final rose ceremony, so she decides to broach the topic of post-Final Rose living arrangements. "It's not like things are going to be super easy, you know?" she tells Ben. "You're going to be in Denver and I'm in Dallas…" She adds, "I'll do whatever it takes to make this relationship work."
When her words fail to elicit any real feedback from Ben, JoJo asks him, point blank, "Do you feel good?" It does not take a body-language expert to see that Ben's answer — "Well that's a loaded question," mumbled through his hand — is not at all promising.
"Oh God," squirms JoJo. "The fact that that's not just a 'yes' makes me nervous." (It should be noted that earlier when Lauren asked "Are you ready?" Ben grinned and nodded.) The Bachelor tries to explain but only makes things worse. "My mind is in a thousand different places," he says. "I really don't know what's going to go on."
Naturally, JoJo presses Ben for a little more clarity when they meet up in her hotel room later that night. And maybe gives it to her? "What I'm feeling for you is deeper than anything I've ever felt. And if I make that commitment at the end, like, you wouldn't ever have anything to worry about."
He then goes on to tell JoJo that he loves her and she's his best friend. Interesting. 
"I'm a lost man right now," he whimpers to the cameras. "I'm lost." It's hard not to feel a little bad for the guy."  Well, you told two girls you loved them, Ben. You should feel like donkey doo-doo right now!
FINAL ROSE CEREMONY
And the first one out of the helicopter is…
"Ben has always promised not to blindside me," muses JoJo, "and I would hope he wouldn't do it on a day like today."
"This is worth it. You are worth it," says JoJo, her voice shaking. "I just want you to know that I love you with all my heart."
"I, uh…" (and her facial expression reveals she already knows she's about to be dumped on national TV)
"I didn't know if I could find love," Ben explains. "I found it with you…
… but I found it with somebody else more."
Oh my gosh, break my heart and half and then shove it down my own throat. BRUTAL!
JoJo whispers, "Oh my God."
"I don't want to say goodbye" and "I still don't question that I do love you."
"I really can't handle this," murmurs JoJo. "I don't even know what to say right now. I'm so confused and blindsided."
"It's fine," JoJo says and adds that she's leaving. Ben follows, pleading and trying to justify himself every step of the way — but JoJo is not trying to hear it. "For you to tell me how in love you were with me? You shouldn't have done that!" she sobs.
Watch the moment HERE
Amen to that sister!
"I'm happy for you," JoJo says. And with that, it's all over but the limo breakdown.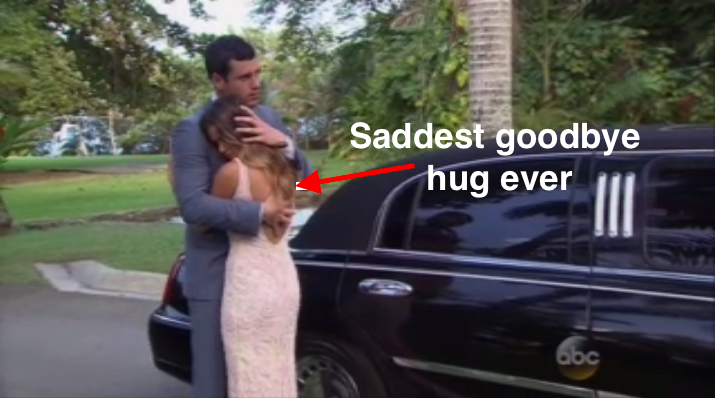 The Bachelor is just as devastated, which is confusing and will no doubt cause some tension with Lauren when she watches his emotional reaction. "I don't deserve JoJo," he says, weeping. "I am about to get on one knee and ask a woman to marry me, and I was confused about that because of JoJo. Because that's how much I love her."
Wait… what? That's right up there with "You're my best friend, and I can't see a life without you. Goodbye."
Okay, so… Ben loves JoJo so much, he's going to marry Lauren. Because that's how much he loves JoJo. Got it. Welp, fella, you know how to make nonsense out of nonsense. So have at it…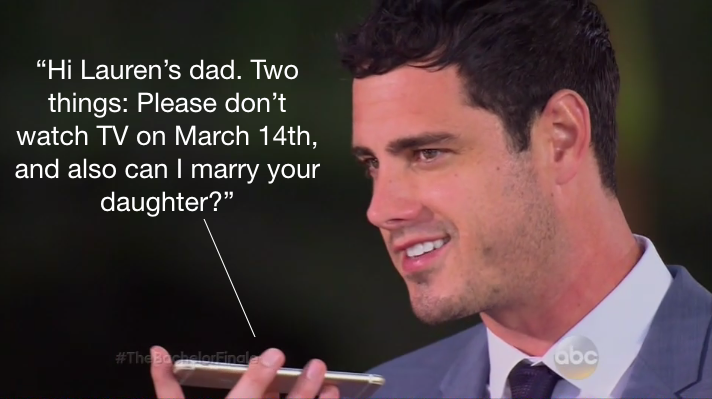 Then, Ben calls Lauren's dad to ask for permission to have his daughter's hand in marriage. Of course, Mr. Bushnell gives Ben his blessing.
Lauren's helicopter arrives and she makes her way, uncomfortably, down the long wooden path.
"You're the person I want to spend my whole life with," Lauren says. "You're my person. I love you."
Ben takes a long, awkward pause…
"I never want to say goodbye to you!" (Awww, that's so cute!)
And the couple lives happily ever after.
Or statistically, until 6 months from now when tabloids announce they've called it quits.
Oh, true love. What would we do without this show to really show us how it's done! (Kidding!)
And that's a wrap, rose lovers.
"No matter what happens, I want you to know that I have loved our time together. And even if I don't pick the next season to recap, you will all ALWAYS be my best friends. And I love you." — Debbie
If you want more insight into all things Bachelor, visit NoRedos for a refreshing perspective on why we watch this show in teh first place…as well as other relationship-related topics.
A Note of Thanks:
Well, here it is. My last Bachelor Recap. I know I've said I'm stopping many a season before. But this time, I really am. Recapping this show each week is a time commitment. Not only do I have to allocate the time to watch the show, I also have to find the time to write the recap.
It's been an incredible outlet for me the past, I don't know – seven years? EEKS! What started as a paid gig with Examiner.com became a way for me to connect with a wider audience and laugh with y'all at a show that makes the quest for love look both easy and uncomfortable.
I am shifting my commitments in the upcoming months and reallocating that time to writing words that matter — and focusing on stories that mean something of greater substance.
Thank you for giggling along with me these last several years. There has been a lot of drama, a lot of heartache, much laughter and a lot of tears. And that's not just in my own love life. HA!
God bless you, rose lovers! And please subscribe to my blog to read stories of "greater substance" in the future. xoxo