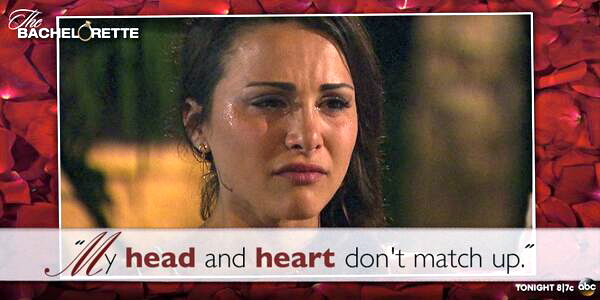 The Bachelorette comes to us this week from the HO-minican Republic, Err, I mean the Dominican Republic.  Andi arrives in Punta Cana fresh off her hometown dates — and ready to spend time with her three remaining suitors– Chris, Nick and Josh.
FIRST DATE: NICK
Tricky Nicky gets the first one-on-one date with Andi. A helicopter swings in to take them on a tour of their tropical locale. And if it isn't clear, the helicopter is this week's scarf.
The two frolicked around and kissed in the ocean before enjoying a picnic on the beach. Meanwhile, all I can think is, "I'd rather compete for a bucket of fried chicken than a date with Nick." No gracias!
While pretending to eat, Andi brings up Nick's past breakup, something that Nick confesses made him not want to talk to anyone for six months after it happened. As he stumbles to find words, we can see why speaking was the first thing he wanted to ditch.
Nick asks Andi if she remembers their first one-on-one date together. Meanwhile, America asks Nick if he remembers the English language. Sheesh, this is brutal!
They forgo their individual dates and choose the "fantasy suite" option. MEOW!
Later that evening, they enjoy a romantic dinner on the beach where Nick reads Andi a fairytale he wrote for her about their romance. And Oh, how sweet! — if Andi was a six-year old girl, that is! I'm guessing he titled the book, "The Fault in Our Scarves?" HA!
Nick did make sure to pour out his (creepy) heart and tell Andi that he not only loves her but tells her everything he loves about her.
Regardless, with or without a scarf, Nick still choked on this date.
SECOND DATE: JOSH
For her date with Josh, Andi travels to Santo Domingo where the two explore the city and play a game of baseball with the group of local kids.
Perhaps she's warming him up — my guess he's about to get traded to "Bachelor in Paradise" as her second round draft pick. Yikes!
What we learn immediately is that Josh's Spanish is about as poor as Nick's English. No bueno.
Josh does manage to tell Andi in plain English that he is in love with her, even though he knows she can't respond.
"I don't care," he says. "I am going to let you know and that's just how it is. I feel stuff with you and that is all that matters to me!"
The two share a romantic dinner at a luxurious resort where Josh confesses that he was once worried that Andi assumed he was cocky and worried she would send him home the first night.
Josh can't put a finger on his feelings with Andi. Obviously that because he's only comfortable putting a finger on athletic equipment.
Josh jumps at the chance to share a fantasy suite together. Fireworks literally go off as they head to their room.
Meanwhile, I'm wondering if she went back to the room and watched a movie off the big screen that is his TEETH!
THIRD DATE: CHRIS
Farmer Chris rolls up for their date in a Jeep, down an old dirt rode. Totes adorbes!
They kick off their date by riding horses across the Dominican countryside.
Andi starts discussing a 300 pound animal beneath her. And I'm thinking, "Is this a euphemism?"
Dear Andi, Riding a horse in vagina shorts is not wise unless you want to get saddle rash on your lady bits (That should be embroidered on a pillow- HA!).
They stop for a bit to play "Ghost in the Graveyard" where Chris shouts out, "There's no one in that bush!" – a foreshadowing because the way this date is going, that's the only bush Chris will be in today.
Andi confesses that she is feeling apprehensive about having an overnight date with Chris because she's concerned that they aren't at that point in their relationship yet.
C'mon Andi, support your local farmer. Ride Chris. HA!
Andi tells Chris that she's at a crossroads with him and that she doesn't feel they are a match.
E – I – E – I – Noooooooooooooo!
"There is not one thing about you I would even imagine wanting to change," he said to her before telling her he loved her.
Andi breaks down in tears and explains that she can't see herself in Chris' hometown in Iowa because she doesn't believe that their relationship had a strong "foundation."
That's all code, of course, for there isn't a mall nearby!!!
"I guess I just have more respect for you than to just blame it on Iowa," she explained.
"I don't think it's fair to make you wait and sit here for days and wait for a rose ceremony," she tearfully tells Chris before sending him home.
Every part of Andi feels like an idiot for shutting down Chris.
Every part of America agrees.
Chris reminded a tearful Dorfman that she made the right decision, saying it "just wasn't meant to be."
The next day, Dorfman explained to Harrison that she believed she did the right thing when she let Chris go.
Clearly, Andi knew long ago that Chris wasn't the one for her. Shame on her for keeping him around longer then she should have. Thank the Lord Chris is finally going home to start his healing process– and to get ready to be the next Bachelor (if I were guessing). He's all class and we will see his farmer dimples again, my friends.
ROSE CEREMONY
Andi shows up for the rose ceremony with Josh and Nick. Seriously? Given a choice between Nick and Josh, I'd choose a cheeseburger! (Although, Josh is so hot in an Atlanta sleazy kind of way.)
Two roses, two men. While America double checks the math, both get a rose.
Next week, ABC will air the "Men Tell All" special, with the finale taking place on July 28th.
What do you think of Dorfman's decision to send Chris home?