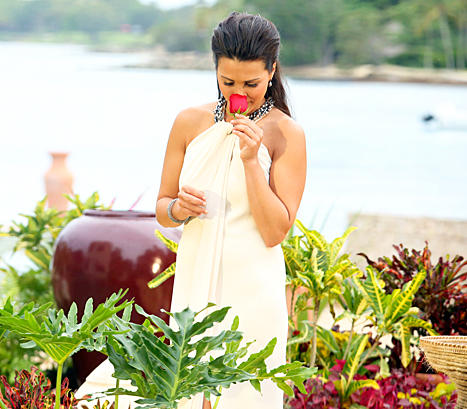 After ten weeks, five countries, and countless red roses, season 10 of The Bachelorette is over, y'all!
Side Note: We're 28 seasons into the Bachelor/Bachelorette franchise, and Chris Harrison still hasn't figured out how to pronounce finale? C'mon, fella! It's fə-ˈna-lē!
Speaking of, instead of calling this the Season Finale, it should be called the Season FINALLY. What a yawner of a season this was! Thank the Lord it's finally over!
Regardless, our pouty-faced Andi Dorfman is engaged!
WARNING: STOP READING IF YOU DON'T WANT TO KNOW WHO ANDI CHOSE.
MEET THE PARENTS
The episode kicks off a few days before the final rose ceremony in the Dominican Republic, where Andi's family — mom Patti, dad Hy, sister Rachel, and brother-in-law Elie — are waiting to meet the final two contenders.
Nick is up first, and he's such a nervous wreck that he can barely look at Andi, let alone her parents. Not to mention that without a scarf, he's almost unrecognizable. HA!
Nick is all sorts of awkward, struggling to string together a grammatically correct sentence. He does manage, however, to compose himself long enough to convince both Patti and Hy that he loves their daughter and wants to marry Andi — "If Nick decides to propose to Andi and she says yes, I would be completely in support of it," Hy says. "I truly believe he's in love with Andi, and I have no doubt it's heartfelt."
Next, it's time for Josh to meet Andi's parents and he's no less nervous than Nick was. "He's trying to be relaxed and calm and cool, but he is sweating, he is so nervous," Hy notes. "This poor guy doesn't have a prayer."
But a prayer he actually did have, as Hy gives him his blessing to marry his daughter, if she so chooses. "I could definitely see Josh being a son-in-law," Hy says.
Let's be honest, if I were to meet Josh, I'd spend 20 minutes asking him how he gets his teeth like that! That much is true.
FINAL ONE-ON-ONE DATES
JOSH
The time has arrived for Andi's last one-on-one date with Josh. As she waits on a dock for him to arrive, she thinks about all the "ups and downs" they've had together. Today is definitely an "up" — their yachting trip reminds her of how much fun they have together, and what an "amazing connection" they have. "Is this gonna last forever?" she wonders out loud.
Pulling out all stops, Josh gives Andi a gift: a heartfelt letter and a personalized baseball card bearing what he hopes will be her married name, Andi Murray. Under the "fun facts" header on the back of the card, he writes, "Husband Josh has never missed a day saying I love you." (Okay, that's pretty dang cute!)
On the upside, if Andi chooses Josh, she can use his dimples as chip bowls & cross that off the bridal registry, right?
NICK
Hours later, Andi is still on a high from her time with Josh, and looking forward to a final date with Nick. She's excited to just relax and let loose, but Nick has other things on his mind — namely, trying to get her to admit how she feels about him. "I'm ready to propose to Andi, but I don't know for sure how she feels about me…I need her to find a way to just let me know," he explains.
What follows is another awkward conversation (does he know any other kind?) about his former fiancee, and his concerns over being burned for a second time. She tells him — rather unconvincingly — that it's going to be okay, which he interprets as a proclamation of love. "I've had confidence before, but now it's at its peak," he says. "She's given me all the signs."
Hey Andi, while we're on the subject of "ups" and downs with these fellas, have you considered the fact that Nick is probably going to tie you "up"? This guy is about 4 scarves and a roll of duct tape away from strapping you down in his parent's basement. Eeks!
Nick only seems confident. He is incredibly insecure and doesn't trust himself. Makes sense. America doesn't trust him either.
Andi wants Nick to turn his brain off. Interesting, she waited all season for Juan Pablo to turn his on!
Nick tells the camera how he imagines a life spent with Andi will be. I thought for sure Nick was going to say, "Spending my life with Andi would be a picnic" based on his gingham shirt selection.
For now, however, Nick has something to give Andi too: a necklace with a vial of sand from the beach where he first told her he loved her. I imagined his next words to be, "And then I went back to the beach and found some of your hair and crocheted this sweater I'm wearing." Seriously, this guy is odd.
COME AND KNOCK ON OUR DOOR
The day of the final rose ceremony arrives and Andi wanders the grounds of the villa pondering her next move (in Hugh Heffner's robe).
Josh, she says, makes her feel "young and vibrant" and giddy, while Nick makes her feel "intense" and "passionate" and emotional. Whomever will she choose?
KNOCK KNOCK
Elsewhere at Casa del Campo, Josh is mulling a proposal. As he wonders about his future with Andi, there's a knock on the door, from famed jewelry designer Neil Lane, who has an assortment of rings for the former athlete to choose from.
On the other side of the compound grounds, there's a knock on Nick's door. This time, it's not Neil Lane bearing gifts, but Andi, bearing some bad news. She needs to talk to Nick.
Andi proceeds with the difficult task of breaking up with Nick (a presumed serial killer), telling him that something's "not right" between them. "It's not what I envisioned. It's not right. Today isn't right," she says. Pressed to elaborate, she explains that the intensity of their relationship worries her (and all of America!!!).
He's understandably hurt, and even a little angry. "Sometimes I feel like you took it too far," he tells her. "Certain things, I wish you wouldn't have said."
Wait a minute, y'all, does this mean Andi's sand locket is up for grabs? Just in case, I'm searching eBay!
Nick, at the very least take comfort in the fact that your gingham picnic shirt matches the couch throw pillows!
Don't be sad Andi, Nick will see you again: Outside your kitchen window, with a butcher knife. And a locket.
AND THERE WAS ONE
Later that day, Josh meets Andi at the site of the final rose ceremony. Before she can say anything, he launches into a long romantic speech about his feelings for her, telling her he gave up his first love, baseball, to find a greater love with someone like her. "Andi, you are the answer to all my prayers, you are the woman of my dreams," he gushes. "When I look in your eyes…I see a woman I want to give the world to. I see a woman I want to spend my life with."
She responds by saying that she's been "scared" since the moment she met him — which is not the most reassuring sentiment. She knows now, though, that it's because she loves him, and has loved him since the very first night. "I am madly in love with you, and you're it," she says. "You're the one that I want to spend the rest of my life with, and I want to have babies with!"
At that, Josh gets down on one knee and pulls out the ring. "Andi Janette Dorfman, will you marry me?" he asks.
She says yes!
So my friends, after ten long weeks and a lack-luster season, Atlanta-based Andi Dorfman got engaged to Atlanta-based Josh Murray, whom she very well could have met just down the street at the grocery store. Classic. Aint' life grand?
Thanks for joining me this season. Until we meet again, rose lovers, be good to yourself and others.
In the meantime, what do you think? Will Andi and Josh last a lifetime? Leave me a comment and let me know your thoughts.