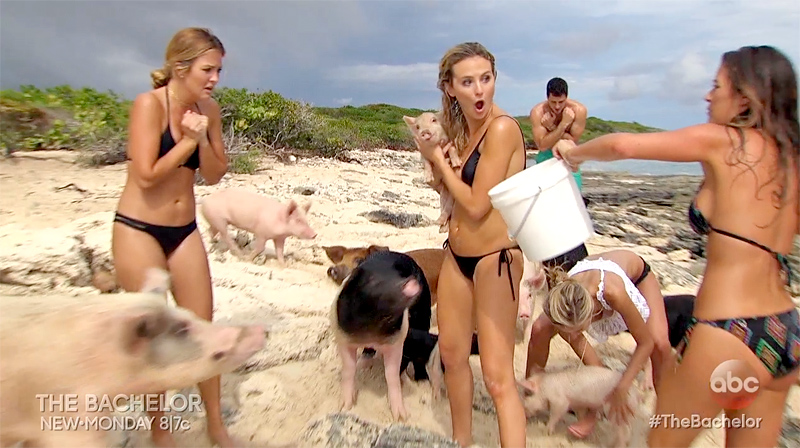 If you missed last week's episode of The Bachelor, it was a two-fer, with the second half of the four-hour episode concluding last night on ABC.
So, welcome back, Rose lovers to the most wonderful time of the week!
With 11 girls left to dual it out for Ben's heart, here's what transpired:
ROSE CEREMONY
Just prior to dishing out the roses, Ben takes Olivia aside to confront her about the rumors going around the house that she is mean to the other ladies and that she's not connecting with the women. He wants to hear her side of the wide-mouthed story. She explains it's because she's aggressive and they aren't.
"They're into things like painting their nails and doing their hair and I like… I like thinking and I want to "talk smart things."
Ummmm, please say that again "smartly" this time, Olivia.
I love lamp.
Ben escorts Olivia back to the group. Rose in hand. There, she tells the girls (via the camera) "Come at me bro! …everyone else can suck it!!!"
Tell me, Livs, does this include a sprig of mint, me hopes? #DragonBreath
Truthfully Olivia, based on the size of your stretched-out mouth, I think that's just the thing that has gotten you into trouble in the past. Egads.
ROSES
Roses are handed out to Caila, Lauren B., Leah, JoJo, Becca and Emily.
Of course Ben waits until one of the twins has been eliminated to give the "You are all so different" speech. HA!
The rest of the girls are pissed Olivia gets to stay. Also, the rest of the Republicans are pissed that Trump gets to stay. But you know, that "Life's not fair" stuff goes here.
Leaving: Jennifer. The girl we never knew.
The most heartbreaking thing about Jen's departure is that we'll never know what her small business was.
I know. I'm shocked you made it this far too, "Other Lauren"…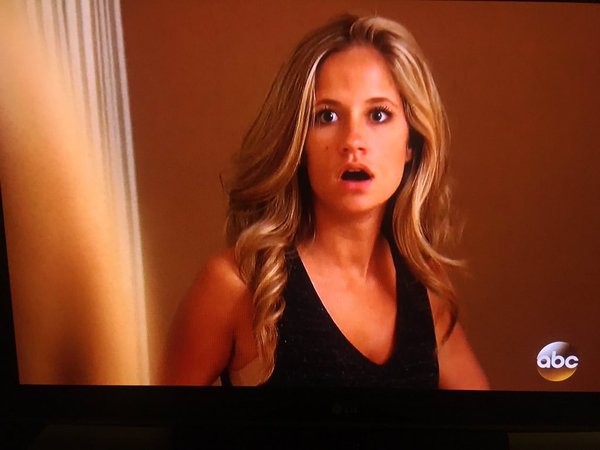 BAHAMA MOMMAS
The remaining girls head to the Bahamas. But truthfully, they seemed WAY more excited when they heard they were going to Vegas. Which is concerning since Vegas reminds me of midgets in Gold-lamé hot pants swinging from stripper poles. But maybe that's just my experience?
At any rate, once in the Bahamas, a one-one-on date card arrives.
ONE-ON-ONE DATE: "LET'S SEE IF LOVE IS REEL"
Caila Quinn is the lucky duck who gets the date card.
They board a yacht — and I get a lot of Sears summer catalog vibes from Ben's outfit.
Um, Caila, I hope you're aware that Ben doesn't actually OWN that boat? Anyone remember "Joe Millionaire" from 2003?
Meanwhile, Leah is sobbing back at the hotel because she feels overlooked. Odd… since we have no idea who the heck she is!
The house full of white girls drinking pink wine and sobbing. It literally is my worst nightmare. One more reason I was not in a sorority. (I know, it surprises everyone).
Just then, I catch a glimpse of Ben's tatted ribs and I begin to wonder which Nickelback lyrics he's engraved on his torso.
The tattoo is a series of words and thanks to an insider, we now know what those words say. Ben's tattoo is a one of my favorite verses from the Old Testament, Proverbs 16:3:
"Commit to the Lord whatever you do, and he will establish your plans.
According to a source on Instagram, Ben was the Director of Faith Based Affairs International Volunteer Head Quarters Volunteer (Sheesh, that's a mouth-full!) in Cuzco, Peru. He aslso worked as an intern at the Warsaw Community Church in Indiana where he is from.
Well, I guess Ben had a little chat with the Lord about establishing his plans to be this season's bachelor.  We'll have to wait and see if the Lord brings him a spouse through reality television.
One last thing, Ben's Twitter account reads, "Sweetly broken, Wholly surrendered." (@benhiggi) – and now I just fell in love!
Honestly, a godly man is one of the sexiest things on the plant, in my opinion.
Okay, where was I before I got side-tracked by Jesus? Oh yes, Ben and Caila's date!
Caila begins to question her relationship with Ben saying she feels that she might hurt him in the future and she worries about that. Keep in mind, this girl broke up with her boyfriend while watching the last season of The Bachelor.
Meanwhile, Ben is concerned that Caila smiles too much. And now I'm concerned that I didn't know that this was a problem!
Caila, you're confusing me by speaking in circles. Is this software language?
Whatevs. She gets a rose.
GROUP DATE: "Love is Unpredictable"
Olivia tells the camera, "Emily is so young. She's just SO YOUNG!" Hilarious because she's 23 and Emily is 22.
Ben is chilling on a boat with five of the ladies.
To be clear, there is no way I would compete with 28 women for a dude.  A bean and cheese burrito? Absolutely. A dude. Nah!
Next, they are invited to feed and swim with pigs. Nothing says, "Mmmm, mmmm, good" like chicken hot dogs and string bikinis in pond water.
Pigs are FILTHY!!! Speaking of, where is Olivia when we need her…?
JoJo interrups the scene with the best line of Bachelor history, "This is like a bar in Dallas. Pigs everywhere." Yep, girl's on point with that remark. There's a reason you don't want to mess with Texas! HA!
JoJo, the last time I saw that many pigs in one place, I was cheering for the NFL.
Okay, so is this what happens when you blow your episode budget on flights and the swimming with dolphins package? You're stuck with wieners and pigs? No gracias.
To no one's surprise, this group date didn't go swimmingly.
I feel bad for the person who has to type the closed captioning for this show. Pigs. Swine. Tube top. Pig.
During the evening portion of the group date, the following transpired:
Ben pulls Becca aside for some alone time.
Ben pulls JoJo aside for some alone time.
Ben pulls Leah aside for some alone time.
I pull Ben & Jerry's Phish Food aside for some alone time.
Ben pulls Lauren B. aside for some alone time.
Apparently during his alone time with Leah, she threw Lauren B. under the bus. And drove over her!  That's why Leah's brows are so black….they're full of LIES.
First rule about lying on National TV: DON'T!
Remember 10 minutes ago when nobody knew who Leah was? I miss that.
Meanwhile, I wish we could just swipe left on Olivia and be done with her.
At the end of this lengthy, dirty date, Amanda gets the group date rose. She also gets the award for best hair = GOALS!
MOMENT OF SUSPENSE
Knock at the door.
Enter Leah to Ben's hotel room.
Her conniving spirit backfires and he tells her that they don't seem to be connecting. There's nothing in their relationship and he thinks it best for them to say goodbye.
BAM!!!
She said she would not have said anything to him had she known he was going to say goodbye to her tonight.
Bye FeLEAHcia!
Snitches get stitches.
TWO-ON-ONE DATE: Two Women, One Rose, One Stays, One Goes!
 Olivia and Emily are forced to go on a date together with Ben. And based on their boob jobs, Olivia and Emily look like their twins are also twins.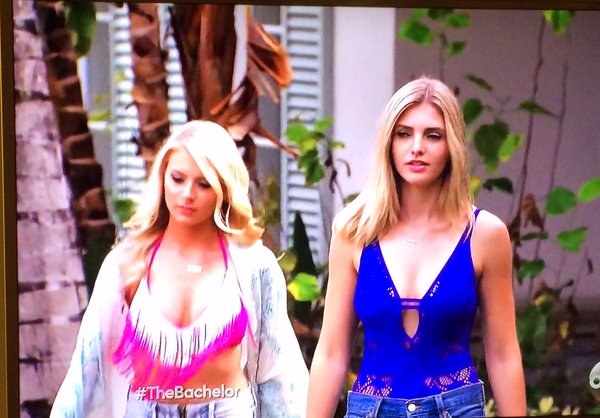 And I think that Emily's twin must have the other half of her bikini top. Lord, almighty! Is that a bathing suit or a Chinese jump rope?!?
OLIVIA
Pulling Olivia aside for some conversation, Olivia tells Ben, "Deep. Intellectual things are my jam. And from the moment I met you, I just like, knew that it was right. And I'm just like in love with you. Olivia – our love is an all-consuming love.
Olivia is rabbit in the stew pot, fatal attraction crazy, y'all!
But I do need to get "Deep Things Are My Jam" on a T-shirt now. HA!
EMILY
Now it's time for Ben to talk a bit with Emily. Besides brushing her hair out of her face, nothing much happens.
Except we learn that Emily doesn't own any ponytail holders.
DECISIONS
He ultimately takes Olivia away — and they take a little walk down the beach, Ben holding a rose in his hand as they stroll.
Emily gets smaller in the distance, sitting alone on the beach.
Ben tells Olivia he can't match her feelings and that while she has been honest with her feelings, he has to be honest with his as well and that means he needs to say goodbye to her now.
Ben recognizes that Olivia is in love with him and he can't reciprocate those feelings back. Well at least he's honest. Nothing hurts more than wasted time. BELIEVE ME!!! It's worse than wasted money.
"He let go of a really good person today," she sobs.
ROSE CEREMONY
JoJo is terrified for the rose ceremony. She was incredibly heartbroken when her last relationship ended. She truly loved him with all her heart and is reluctant to let her guard down again. (Yeah, I understand, JoJo).
Becca, JoJo and Lauren B. get the roses.
Lauren "H" is for Home is going home. She drives off crying, and keeps asking when it's going to be her time for love. Better ask for your job back first, home-girl.
Goodness gracious, I'm exhausted. That was a lot to get through but thanks for sticking with me. I'll see you here next week for more "As the Benji Turns." Until then, have a phenomenal week and stay away from swine.