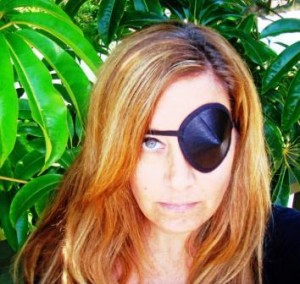 My stylist is always telling me that I'm a "Spring." That's super! Until, of course, the warm tones in my cheeks begin to draw unnecessary attention to the chartreuse in my bruised and scabbed eyelid that's now hiding behind an eye patch.
Yes. You heard me right (or left in this case). I'm wearing an eye patch. ARRRRRRRGH!
It was 5:30AM yesterday morning when the "incident" occurred. The Judge, that's my Puggle, decided to make a ruling on my face!
He thought I was playing when I'd motioned for him to lie back down at the end of the bed so I could go back to dreaming in 20/10 vision.
He wasn't having it. Instead, he circled back around and pounced on my delicate face, slicing straight through my left eyelid with a flourish of his hook. It wasn't until I felt blood running down my warm, Spring cheeks that I realized he'd gouged my eyelid.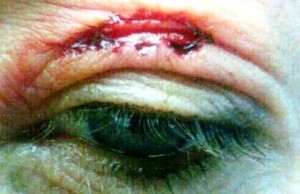 Naturally, the next thing I did was to grab a grapefruit from the mini-fridge in my Easy Bake oven-sized kitchen and use it to slow the swelling.
Pirates don't use ice.
Then, I hobbled on my whitewashed peg leg over to the couch and downed a bottle of rum while a parrot napped on my shoulder.
(Side note: A parrot on the shoulder draws the eye away from the waistline, imparting a slimming effect on your wardrobe ensemble – even when naked).
When the blood refused to cease, I knew this wasn't your everyday injury.
I considered getting dressed in an outlandishly inappropriate costume and acting like it was a big, huge dramatic deal so the folks at ER might mistake me for Johnny Depp. But I refrained (and opted to make it a big deal on FB instead).
Soon I found myself unintentionally winking at an AaarrN (ha!) in the ER where they glued my eyelid back together and quickly sent me back out the door to my ship with two prescriptions and an eye patch.
I had hoped for some grog, a musket and a dagger but settled instead for my new facial scar and a sudden lust for blood and danger.
Ironically, just the day before this all took place, I was on a train with standing room only. At one point along the bumpy commute, my friend lost her balance and elbowed me in the lip. Seconds later, my hair got caught in the underarm of a passer-by yanking out a wad of my goldilocks.
A gentleman watching this all take place laughed and said, "I'm not sure what your real name is, but from here on out everyone should just call you "PATCHES…"