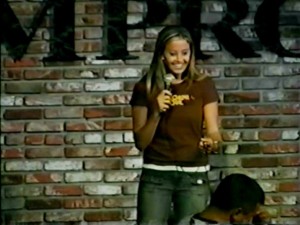 When I enrolled in a local comedy class years ago, my desire was to learn in the class how to write comedically. I didn't. I did, however, have to perform ten minutes in front of a sold-out audience at the Improv.
I had family members on their way to the show that night on their cell phones with one another saying, "Is Debbie funny? Sarcastic, certainly! But I don't know if she's 'stand-up' funny?" Oh, this might be painful. Okay, no matter what, just laugh with her."
I share it with you now in hopes that you, like my family, just laugh with me…
I ended up having so much fun on stage that night, despite this performance, that I re-wrote my routine, omitted the cussing that was completely unnecessary (and misrepresentative of who I was/am), and went on to perform at open mic nights, AA meetings, comedy clubs and dive bars throughout Orange, Riverside and LA County for over a year…
It was an amazing experience.
There is something so humbling and raw about being on stage in that capacity. But, until I get back on stage, I will wow you here with my written antics.
So without further delay, here, my "Smith Witters," is my first ever stand-up comedy routine…