Here in the United States, we set aside one Sunday in June to honor fatherhood and celebrate paternal bonds, and the influence of fathers in society. (HAPPY FATHER'S DAY, POPS!) But in our family, the idea of creating time for children to honor their father, and vice versa, has been happening each Wednesday since the 1970's.  And for that reason, my favorite family tradition is Wednesday.
You may wonder how a day of the week can be a family tradition, but actually in our family it is. My parents divorced when my twin sister and I were two years old, prompting my father to make the decision to dedicate every Wednesday morning to intentional, one-on-one time with one of his four kids over breakfast.
Dad has gone to great lengths through the years to protect his Wednesday morning ritual from the demands of running a company that sought to rob us of that sacred time together.  But since I was two years old, he's never let anything interfere. No. Wednesday morning belongs to his beloved "Damn D's" (the name affectionately given to his children since all our names begin with the letter 'D').
At 7 o'clock every Wednesday morning, you'll find him in the same place: down at the same local diner, in the same red corner booth, placing the same order.  The only variation to his weekly routine is which lucky kid gets to share the booth with him.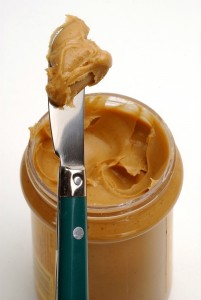 Like clockwork, Dad orders his Hump Day dish: two eggs scrambled, an English muffin toasted with a side of peanut butter, and a cup of coffee. And have no fear; if they run out of peanut butter, our father always brings his own. After all, this creature of habit cannot eat much without a dollop of peanut butter on it.
For most, Wednesday is referred to as Hump Day ~ the day we want to get "over" so we can arrive at Friday. But for Dad, this sacred, intentional time with his kids is about getting "under"  ~  under the surface of what's been transpiring in each of our lives since he last saw us and find out how we've been doing.
And he goes about it in birth order. He takes my older brother to breakfast the first Wednesday of the month, dines with my older sister the next, then eats with me, and finally breakfasts with my twin sister. We refer it as WednesDAD.
But when I moved out of state here to Texas, I took myself out of the WednesDad rotation completely. And I miss it. I miss the unmatched gift of time with my Pops. Whether sitting in silence stirring our coffees or giggling over recent life events, our morning tradition ushers in a sense of stability, consistency and family that makes being away from all of them now more difficult.
So, in an effort to fill that void, I'm proposing that Dad let me back in the Wednesday morning mix by sharing breakfast via Skype: he from the red corner booth in the local diner and me from a favored breakfast spot in Austin. After all, in our family, that's how Wednesday morning is meant to be spent ~  with my WednesDAD.