I've purchased several bottles of nail polish simply because I'm inexplicably drawn to the name. I tend to gravitate toward varying shades of Red. I am even the proud owner of one bottle of "Friar, Friar, Pants on Fire!"
But more than the catchy title, I like the way the colors look in the bottle as they stand in a row atop my dresser. I have the peculiar ritual of lining 'em all up back to back ~ like little soldiers eagerly awaiting my command. I do this with a certain sense of dread as I know that each and every soldier will disappoint me in one way or another.
What I mean is that once I open the bottle and wear the shade around for a bit, the color inevitably begins to look different, they certainly wear different and none of them will appear half as sexy and appealing as they did in my poorly-lit bedroom. It's incredibly discouraging that the minute the nail polish dries, the aging process begins. For one fleeting moment, the color is clear and vibrant; it excites the eyes as my fingers twirl in the air. For a brief second, it is the best it will ever be.
How quickly that changes, however, as the polish begins to crack, peal or flake. Finding a nail polish with just the right mix of color and quality is more difficult than it sounds. Particularly for sassy girls like us who don't intend to utilize just any 'ole shade. We know what we want: Goes on smooth; dries evenly; nice shine; overall staying power and doesn't cost more than it's worth.
I am in need of polish that makes me feel consistently confident as a woman. One that has some stamina, retains its color, doesn't flake. Why then do I continue to reach for the same shade of red that dulls quickly and disappoints? I deserve to feel sure, intact and complete all the time. Not dull, faded and cracked.
For god sake, I ought to be running full force towards the clear polish! There's no mystery there, nothing fancy…it's shining and transparent. It is what it is.  And more importantly, it's not what it isn't!
Let's be honest, clear polish is not in the concealing business. When people show up to a makeup counter and survey the snazzy packages, names and colors, nothing about "clear polish" says, "Hey honey, if you take me home with you, I will make you feel special and I'll help you unlock the real you, and open doors that have remained closed!"
This is exactly what red says.  For sure "Honeymoon Red" says that! With every stroke of that deceiving brush, "Honeymoon Red" whispers "Baby, you are sexy. I shall convince you that I am sexy on you!" and "Listen to me doll face, I know I'm just colored varnish and lacquer disguised in a fancy and attractive bottle, but you will feel drab and utterly indistinct if you don't choose me…and take me home with you."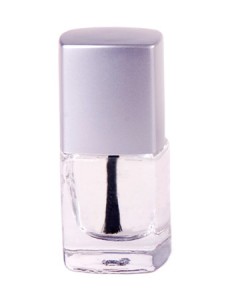 And so I chose him.
I refer to the scattered assortment of flaky men I used to date as my "RPC" (Red Polish Collection) despite knowing since I was a little girl the exact shade of man I was looking for.
Today, the choice is clear.