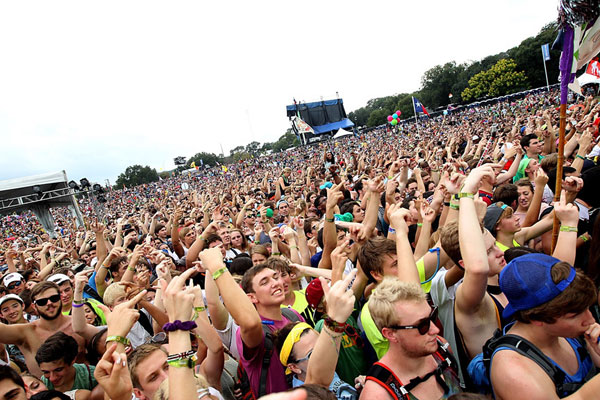 I love music, I just don't LOVE music festivals.
Admitting this will not go over well here in the music capital of the world of Austin, Texas.
It's about as popular a sentiment as a Californian saying they don't like avocado, or a parent saying they don't like, well…that they don't like children.
By the way, I am from California and I don't like avocados. HA! But, I digress…
When the lineup for ACL, or Austin City Limits, was announced this week, all I could think was, "Oh gross!"
Don't get me wrong, I love listening to live music around town.
Additionally, I've been known to lust after a fine, hunky musician or two like the rest of 'em.
But a music festival?
Well that's a completely different, sweaty beast.
Which brings me to reason number one why I'm not a huge fan of music festivals:
THE SWEAT
I've never been to a musical festival that wasn't sticky — as in swamp-ass, nightmare festering beneath your polyester romper, sticky!
I'm not sure exactly why it is, but regardless the weather forecast, when the festival finally arrives, temperatures rise, leaving mammary glands with no other option than to secrete. Ewww. Or should I say, "Ooze?"
So there you are, smack dab in the middle of hundreds of thousands of sweaty people, shoved together on a tiny patch of dead grass; clamoring for shade or shelter from the relentless heat while all your festival neighbors drip and splash their smelly perspiration on you.
I literally want to run home and bathe in a tub filled with hand sanitizer and potpourri after a day at a music fest. Listen (pun intended), extreme body contact with strangers is just not my type of sexy.
THE SNOBBERY
It used to be that people would attend music festivals to leave social snobbery and inhibitions behind. There in the middle of the mud and the madness, everyone is made equal.
Second to baggage claim, the music festival was the greatest social equalizer on the planet.
But these days, with the huge corporate sponsorships and the hoity-toity VIP tents, the more you pay, the "cooler" you are. Literally.
A badge equals bragging rights.
Bragging rights means you're a Douche "Badge." HA! Okay, that was a joke. Kind of.
Truth is, the reputation of a festival is far more important than the acts who are playing. Case in point (this is hilarious!):
THE SMOKE
If it's not bad enough to be standing inches from a sweaty guy in a tank top fist pumping to your favorite song, you do so while marinating in a consistent and heavy cloud of smoke. Cough, Cough! Puff, Puff!
Sure, the "rules" clearly state that there is no smoking allowed. But this is a loud, drug-fueled, overcrowded, clothing-optional carnival of irresponsibility, so rules will be broken, my friend.
Yep, music festivals are filled with hundreds of stubborn walking disciplinary problems known as teens, in a constant state of rage and rebellion because they've never seen so much boob.
Smoking is just a side-effect of the rebellion.
THE UPSIDE
Granted, unless someone gives me a free ticket, I'm probably not going to spend a lot of time or money trying to track down a wrist band (AKA a "Douche Badge") to the next music festival.
But, that doesn't mean there's not still some aspects to the event that make them amazing.
There is denying that there is something liberating and inspirational about being around people who share your same taste in music with no assigned seating and no shortage of people-watching.
At the end of the day, you're paying for the memories. So if you do attend a music festival, soak it up my friends, because come Monday morning, it's back to reality we go.
This blog won't win me any popularity contests, especially here in Austin. But someone please tell me I'm not alone in not loving music festivals?