I didn't always used to be so chintzy.
While some people were born total cheapskates, unwilling to pay top-dollar for quality products and services, I assure you, I was NOT one of them!  However, when I lost three jobs in 2 years and found myself spooning with the poverty line…well, things changed.
And believe you me, when you buy something below the 'it's too good to be true' mark, chances are it really is too good to be true.
As the old adage goes, you get what you pay for. So take it from me, here are a few things you just DON'T want to skimp on:
1. a Mattress
When I moved to Austin three years ago, I did so with no job and not knowing a soul in the land. I'd also sold most of my personal belongings before making the trek east on I-10 in a 14 foot U-Haul. For the first month or so, I slept on a blow-up mattress while I looked for employment. But, once I got a job, I used my celebratory first check towards an oh-so-necessary mattress (and an imperative pair of cowboy boots!). I was checking out these top 10 mattresses and have been trying to decide which one to get.
The mistake I made, however, was not spending that entire first paycheck on the mattress. Instead, I'd invested mere pennies on a glorified box spring stuffed with cotton balls and laundry lint. Flash forward a year or so and I'm sleeping smack dab in the middle of a pillow taco and shoved in the crease of the bed with my dog. Or, rather, shoved in my dog's crease while in bed. Serves me right for buying a janky mattress, without slats, that now sags like neck skin down the middle. Don't make the same mistake.
2. Online Dating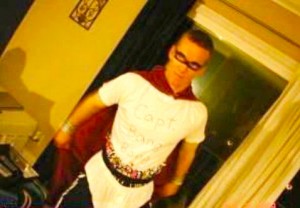 Never do the words "you get what you pay for" ring more true than when we're talking about online dating.  Take this gem, for example, that I received courtesy of a free online dating site:
"I want to 'lick' you down."
Signed,
Captain Bang-Bang
The most disappointing part of this exchange, of course, being that Captain Bang Bang apparently didn't also want to lick me up?!?  HA!
Ladies and gents, if you are going to try to navigate the murky waters of online dating, you best invest a couple extra dollars to attract someone who is worth attracting in the first place! If you need more evidence, read THIS.
3. an Umbrella
I'd never owned an umbrella in my adult life. Call me stubborn or a huge fan of rain, but when I finally caved in and bought a 2-dollar umbrella in a New Orleans storm, here's what happened (it speaks for itself):
4. Air Travel
Unless your travel is strictly leisure and it doesn't matter at all when you get to your destination, or IF you get to your destination, avoid cheap airlines like the plague.
Cheap is nice, until cheap fails!
Take my recent experience with Allegiant Air, for example:
When Allegiant Air recently announced new service between Las Vegas and Austin, Texas at half the price, I thought, "Why the heck not?" Granted, I had never heard of the carrier — and carriers you've never heard of are the ones that make the news –But, I'm optimistic so I thought I'd give it a shot.
I arrived at the airport and found my way to the ticket counter, wanting to check a bag.
Yes, I actually was checking a bag for a 2-day trip because I'd also skimped on luggage and now the handle gets stuck in the upright position; I can't push the handle down in a timely manner; I get all hot and sweaty while passengers wait for me to get my crap together; and sticking the damn bag in the overhead compartment is a headache for everyone onboard!
I cozied on up to the ticket counter with the friendly lady with the bleach-blonde pompadour:
"I need to check my bag," I said.
"That's fifty dollars," she replied.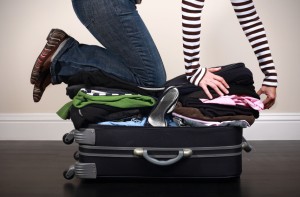 "I'm sorry," I gasped, "Did you say Five-Zero?"
"Yes," she continued, "whether you are carrying-on or checking your bag, if you did not indicate that at the time of printing your boarding pass, it will be fifty dollars."
"Each way."
"Each way? Geezo-Pete!" I shot back. "Well, I don't really have a choice if I want my belongings to make the trip with me, right?"
She smiled, and blew a bubble with her distinct grape-flavored Bubble Yum.
I hand her a fifty dollar bill.
"Oh, I'm so sorry," she said, "we don't take cash."
"Oh okay, here's a credit card," I replied.
"Oh, I'm so sorry," she continued, "we don't take American Express."
"You don't take cash and you don't take American Express?," I said bewildered. "Well, that's super awesome because that's all I have on me today! What do you propose I do to get my luggage on the plane?"
"I guess you're going to need to call a friend or family member  if you want your belongings with you," she said, now looking at me like an infant.
She wasn't kidding.
So that's exactly what I had to do. Like a toddler in a soiled diaper still nursing from her momma's teet, I dialed my twin sister and used her MasterCard to get my crap on the plane. (Thank you, wombmate!!! — I love you!)
Seriously?
To add insult to injury, they also didn't take AMEX or cash on the plane so I had to suck ice cubes the whole flight because those are the only snacks on board that are free.
Despite dropping a hundred feet at one point, causing all passengers onboard the twenty-year old airplane to scream in unison, we managed to make it Vegas in one piece.
Speaking of pieces…
The flight home was not nearly as "smooth."
I boarded the plane and took my seat, 27E. I'd asked if I could have a window or aisle, but like everything else, "That will be fifty dollars."
One of the last people to board the plane was my neighbor in 27F, in the window seat.
27F smelled like a brewery so there was no need to guess what he'd been doing in Vegas.
The plane began to make it's way down the runway.
While the old plane bounced along, 27F stood up abruptly and lunged over me, as well as the young Engineer in the aisle seat next to me.
"SIT DOWN!!!" came the screams from every flight attendant on board.
27F slouched back into his seat, gripping a barf bag as he went.
Vomit.
Vomit.
Vomit.
Oh good lord. Are you joking me? I thought to myself. A completely full plane and I have to sit next to the delinquent child who can't hold his liquor?  So gross.
We weren't even at cruising altitude when a flight attendant came by to see what all the ruckus was about and to make sure 27F was okay.
Seeing he was just over-served the night before, she handed him a Hefty Cinch Sak and went on her way.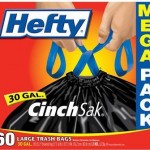 "Wait a minute," I thought to call out, "is that bag fifty dollars too?" HA!
For the next THREE hours, I listened to the poor soul in 27F dry heave from Vegas to Austin. YIKES!
If you get what you pay for, I suppose I paid Allegiant Air to finally know the answer to the riddle…
What happens in Vegas,
ends up in a Cinch Sak!
Now it's your turn: Tell me, what have you skimped on that you came to regret? Leave a comment because I'd love to know!